Welcome to the Newletter page of our website! Feel free to browse around and see what
else is here. Check out the menu bar on th top ↑ of the page.
Pray for One Another


or call/text (520) 709-0815
Our pastors and their families
Our board members
The world as we all continue to navigate this Covid-19 pandemic.
The many unspoken requests
Barb Gionfriddo's friends
Frank and Dawn Sundstrom
Mary Ann Watson's friend, Nelda
A family who lost their child
All affected by the Telegraph Fire
Susan Hunt
Barb Gionfriddo
Talma Harmon's brother
Make sure you're a part of our Facebook group to get prayer requests as they come in: https://www.facebook.com/groups/21109057279
Bible Reading Plan
Click the links below to read online
Verse of the Week
Click here to read the verse in context.
Nazarene News


Celebrating the life, ministry of Dan Copp
Dan Copp, 65, of Cameron, Missouri, passed away 18 June 2021 after a yearlong battle with pancreatic cancer. He previously served as director of Clergy Development and as education commissioner for the Church of the Nazarene.
Copp was known as a man who empowered others and breathed life and affirmation into people's callings and passions while making a seat at the table for everyone to be heard.
"Dan was the epitome of a grace-filled leader; a churchman, visionary and transformational leader," said General Superintendent Fili Chambo. "He led with integrity, humility, and grace and helped develop and empower leaders for the church around the world. I admired his ability to listen well and how he encouraged, valued, and facilitated many robust conversations for the church with much grace. He was committed to ensuring that all voices are heard."
Daniel Robert Copp was born on 12 November 1955 in Sacramento, California. He attended Point Loma Nazarene College (now University), graduating in 1977 with a bachelor's degree in political science. While attending Point Loma, he met Vicki Honea and they were married in Vista, California, on 7 June 1977.
He went on to complete his Master of Divinity at Nazarene Theological Seminary in 1983. That spring, he became pastor of Oakland First Church of the Nazarene in California. There the Copps had two daughters, Megan (Albaugh) and Mackenzie (Wood).
In 1987, he made the move south to pastor San Diego Mission Valley. While serving there, he earned his Doctor of Ministry from Fuller Theological Seminary. He also served as chair of the Board of Trustees at Point Loma. In 2000, Copp was called to be superintendent of the Arizona District, where he served for five years.
In 2005, he became the director of Clergy Development, a role in which he served for nearly 15 years as he encouraged pastors. He began serving in a dual role in 2011 when he became educational commissioner for the denomination, providing oversight and support for Nazarene institutions of higher learning across the six world regions.
He was a collaborator and a mentor, helping fan the flame of others' passions and making space for their voices to be heard.
"I believe that God prepared and brought Dr. Daniel R. Copp at the right time to the right place to lead both global education and global clergy development in the Church of the Nazarene," said Klaus Arnold, current director of Global Education and Clergy Development. "His gifts, his personality, his experiences in different ministry roles, and, most of all, his character prepared him for this role which he filled out so well. One of the best ways to describe his impact on the lives of many through his ministry as education commissioner is 'affirmation.' Dan has been affirming both women and men to fulfill the call of God in their lives. This is certainly true for me and my ministry. Without Dan, many of us would not be the same."
After retiring, he served alongside Vicki as an associate pastor at Cameron Church of the Nazarene.
He was preceded in death by his parents and twin daughters born prematurely in 1983. He is survived by his wife, Vicki Copp; daughters, Mackenzie Wood and Megan Albaugh; brother Jerry Copp; sister, Sharon Oyadomari; four grandchildren, 14 nieces and nephews, and many great-nieces and nephews.
Two services will be held: one for the Cameron community (July 24, 10:30 a.m. at Cameron Church of the Nazarene) and one for the Kansas City Community (July 25, 3 p.m. at Central Church of the Nazarene).
by Nazarene News Staff 24 Jun 2021
Opportunities to Give and Serve


LOVEWORKS is looking for volunteers
Donations

of clothes for

infant to adult

are currently being accepted.
Thank you so much, for your continued generosity of both time and resources.
Your gifts make a difference!
Contact Barbara Keeler: (520) 709-8925
You may always designate how you would like your offerings to be used for Mosaic Ministries besides our general fund. Here are some ministries in which you may want your offerings to go:


✎ LoveWorks ✎ Children's Ministry ✎ MOPs ✎ Prison Ministry
✎ Outreach ✎ Women's Ministry ✎ Facilities Upgrade Fund


Information


Check our

UPDATES

page for new things.


For our live Google calendar go

HERE
NEW hours at LoveWorks!
(for all your Covid-19 time and general Mosaic news)
~ See our services on YouTube!

RIGHT HERE
🔶🔷🔶🔷🔶🔷🔶🔷🔶🔷🔶🔷🔶🔷🔶🔷🔶🔷🔶🔷🔶🔷🔶🔷🔶🔷🔶🔷🔶
M

O

S

A

I

C

K

I

D

S


https://www.mosaicnazarene.org/mosaic-kids
This weeks topic is:
Be Generous
Coming up...
🔶🔷🔶🔷🔶🔷🔶🔷🔶🔷🔶🔷🔶🔷🔶🔷🔶🔷🔶🔷🔶🔷🔶🔷🔶🔷🔶🔷🔶
Coming Up...


❓●❓●❓●❓●❓●❓●❓●❓●❓●❓●❓●❓●❓●❓●❓
❓❓ Bible Trivia ❓❓
New CHALLAGE! Be the first to email me with 100% correct and get a PRIZE! mosaicnazarene.org
1. Q: What is the 9th commandment?
2. Q: Where did Peter stay during his ministry in the city of Joppa?
3. True or False: Peter was rescued from prison by an Angel.
4. Q: How many people saw Jesus after he came back from the dead?
5. Q: How much bread and fish did Jesus use to feed over 5000 people?
6. Q: Before Jesus starting preaching, what was his normal job? 7. Q: What daring thing did Esther do to talk with the king? 8. Q: Who was the last king Daniel served under in the Bible? 9. Q: During his time as king, who was David's main enemy? 10. Q: What did Solomon build for the Lord?
Answers will posted on the next Newsletter.
Last weeks answers CONGRATS TO CAROLYN KURTZ FOR WINNING LAST WEEK!!!!!
1. Q: How many days and nights did it rain when Noah was on the ark? A: 40
2. Q: What was Sarai's name changed to?
A: Sarah
3. Q: How did the brothers get rid of Joseph?
A: Sold him to slave traders.
4. Q: Who was Jacob's second son with Rachel? A: Benjamin
5. Q: Where did David spare Saul's life the first time? A: In a cave
6. Q: Name one of Jesus' brothers?
A: James, Joseph, Simon and Judas
7. True or False: Jesus stayed away from people with bad reputations? A: False – He often ate with "sinners."
8. Q: Who spoke from the sky when Jesus was baptized? A: God
9. Q: What 2 things did Jesus do to raise Lazarus back to life? A: He prayed and then told Lazarus to come out.
10. Q: What did the woman pour on Jesus' feet at the home of Simon the Leeper? A: Jar of expensive perfume
❓●❓●❓●❓●❓●❓●❓●❓●❓●❓●❓●❓●❓●❓●❓
Humor... kinda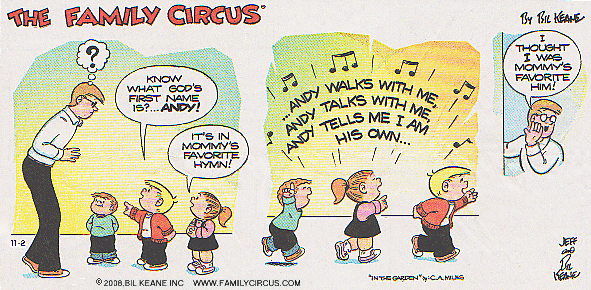 Social Distancing Guidelines
Please keep at least 6 feet apart while sitting in the sanctuary if possible
Please practice social distancing on the church property as much as possible
Sanitizer and masks are available at the front table
If you feel sick or have a temperature, please stay home
Communion elements will be available on a table as you enter the church 
Offering will be taken as you exit the church after service 
Surfaces will be regularly cleaned and sanitized 
Thanks for respecting the guidelines and one another!
Click HERE for our Google calendar.